HR Case Studies and Testimonials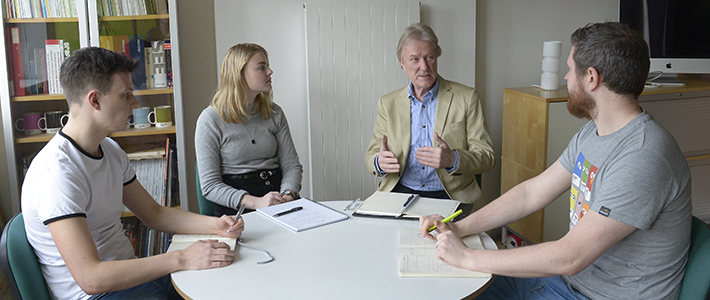 The range of our services
Our HR work covers a very broad spectrum.  It includes such things as:
Change-management  - in particular, support with redundancy programmes

Investigations
Handling Grievance and Disciplinary matters
Drafting of policies and procedures
Day-to-day HR advice to MDs and Directors
Attitude and opinion surveys
Recruitment, both search and advertised
Over the past 20 years, we have undertaken HR work with over 25 organisations of different sizes and, for many of them, on a long-term basis.  Examples of the work we have done include:
Case Study 1 - Restructuring, redundancies and investigations
A well-known national charity needed to respond to the new national financial regime for charities.  This led to a strategic review of its business model and a need to reduce the number of staff in some areas, whilst creating new posts in others.  We provided expertise in all aspects of the redundancy process, scoping and personally managing it from start to finish. 
We also arranged outplacement consultancy for those people made redundant, which ensured that everyone affected had secured a new job within three months of receiving their redundancy notice.
We have also undertaken three investigations for them in various UK locations.  In every case, our detailed report and findings were accepted and acted upon by them.
Deputy CEO:  "Graham's calm, approachable and measured style, as well as his considerabe knowledge and expertise, has been invaluable in supporting us through change, at a local and national level. Graham gets to the heart of the issues and provides pertinent feedback, while building trust and confidence quickly. I would highly recommend his consultancy services."
For more information, contact us today.
Case Study 2 - On-going HR support
A small property-management company that provided office space to some 40 tenant companies required on-going support for all its HR activity.  We have now been working with this client for over 14 years.
MD: "Graham has been working closely with my company for some 14 years, giving regular, specialist HR advice and hands-on support on many activities. His clear, well-thought-out advice has been exemplary.  He responds fast to issues as they arise. Most importantly, he gets on well with everyone, whatever their level."
For more information, contact us today.​
Case Study 3 - Developing HR Policies and Procedures
A national membership and training organisation.  We have been working for this client for some five years, providing day-to-day HR advice and undertaking a major re-writing of their HR policies and procedures  and employment contracts and complaints procedures.
Operations Director: "Graham's calm, rational and helpful approach has been a tremendous advantage in helping the Institute to fulfil its HR responsibilities.  His attention to detail and enthusiasm for his work has lightened the task, and he is always a pleasure to work with.  We would recommend him most highly."
For more information, contact us today.​
Case Study 4 - On-going HR support, plant closure and redundancies
A UK-based chemical manufacturing company - part of a larger European organisation - needed support for the full range of its HR activities over a four-year period.  This involved developing staff handbooks, establishing HR policies and procedures, recruitment of several managers, co-ordinating internal communications and giving advice to the MD and managers on people-management situations.
Finally, we helped to co-ordinate the closure of the plant and the redundancy of the entire workforce.  Outplacement help was provided, which ensured that every member of staff secured new employment within a reasonable timescale.
UK MD: "Graham provided both high-level insight and a great deal of hands-on, operational HR support. I would highly recommend Graham to anyone running a business, particularly with international involvement, and in need of wise counsel and practical HR skills. He was also fun to work with!"
For more information, contact us today.
Case Study 5 - On-going HR support, workshops, redundancies and recruitment
We provided an on-going HR service to a large, well-known national membership organisation, encompassing the following: advising on all aspects of HR; drafting and annually reviewing policies, procedures and contracts; running workshops for managers and staff on employment law, selection interviewing and time-management; co-ordinating two small redundancy programmes; and recruiting the new CEO.
CEO: "I have been using Graham's services as our HR Advisor for over four years and have found him to be thorough, reliable and utterly professional - and he always brings a friendly smile and tone to the table."
For more information, contact us today.
Case Study 6 - Wide-ranging HR support, surveys, coaching, recruitment and facilitation
We have provided wide-ranging HR support 20 years to a US manufacturing company with a UK division of some 1,000 employees.  The HR work has included several opinion surveys, salary surveys, recruitment in France, mediation, facilitation of Strategy Days and on-going advice to the Board on adapting to changing parent-company requirements.
(Separately, we have coached eight people at director and senior-management level and run a variety of residential development programmes for their senior leadership team.)
UK MD: "Graham has worked with our Board and Senior Management team over many years, giving a wide range of support in HR and Development activities, more recently through a very challenging period of transition. I would highly recommend Darbyshire Consulting. They took the time to understand our issues, using their experience of similar situations in Industry before implementation."
For more information, contact us today.
Case Study 7 - Recruitment
We were requested to recruit three Regional Directors for a large UK charity with some 2,000 staff.
COO: "Graham is a very experienced business and recruitment consultant who is responsive to his clients' particular needs, creative in using his experience to advise and steer executive recruitment and collaborative in his approach with Trustees and Officers.  He is excellent value and efficient in delivery."
For more information, contact us today.
Case Study 8 - Regular advice on complex HR matters, plus policies and procedures
A national membership and training organisation.  We have been working with this organisation for five years, helping them to a manage a range of performance issues, as well as restucturing and redundancy situations.  Additionally, we have redrafted and managed their HR policies and procedures, as well as contracts of employment and the staff handbook.
Operations Director: "I have been working with Graham for some five years and am delighted to be able to recommend his professional services.  Graham understands that we're a small outfit and his advice - which is always sound - is also pragmatic.  We get to the nub of a problem very quickly.  No job is ever too big or too small.  He's very personable and very easy to work with.  I have no hesitation in recommending him."
If you would like more information on our services, please contact us today.